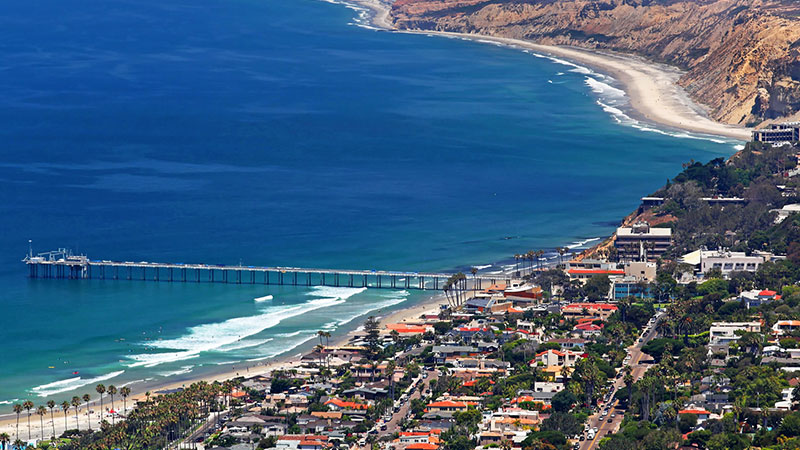 La Jolla Overview
This San Diego neighborhood is filled with fine dining restaurants, boutique lined streets, stunning art galleries and soft sand beaches. This area is where the rich and famous come to dine, shop and play yet the location is not solely for the stars. In addition to its high-end charm, La Jolla also happens to be one of the most dramatically beautiful places in California. This city is perched a top jagged cliffs that butt into the Pacific Ocean. This gem of Southern California is known for its spectacular sunsets and due to its year-round sunshine, it has some of the finest weather in the world.
Standing for 'the jewel' in Spanish, La Jolla is described as being the perfect combination of an upscale European resort with a laid-back Southern California surf town. While the neighborhoods around La Jolla are known for being affluent, this city still has a friendly and down-to-Earth vibe. Despite being a high-end city, La Jolla does not fit into the clichéd California ditsy stereotype with the many scientific research organizations and numerous universities calling this coastal city home.
For those looking for ways to stay active while in La Jolla, look no further than the beautiful landscapes to serve as your backdrop for a workout. Popular activities around La Jolla include swimming and snorkeling around La Jolla Cove, hitting the links at Torrey Pines or touring one of the local art galleries.
There are seven distinct beaches in La Jolla. These include Black's Beach, Children's Pool, La Jolla Cove, La Jolla Shores, Marine Street Beach, Torrey Pines State Beach and Windansea Beach. Black's Beach is a two-mile long beach that runs along 300 feet cliffs and is the perfect location for a long romantic stroll along the Pacific Ocean. Children's Pool, also known as Casa, is a calm beach with a protected swimming area. This area is popular with snorkelers and is very picturesque. Often you can see seals and sea lions lounging on Seal Rock just offshore from the beach.
La Jolla was first inhabited in the 1880s and has been a popular tourist destination ever since. Filled with some of the finest shopping, attractions, hotels and dining options in the world, this city is filled with activities to keep both visitors and locals satisfied. The Village area of La Jolla is where you can find the majority of the award-winning restaurants and some of the best shopping in southern California.
Properties for Sale in La Jolla
La Jolla Market Stats
La Jolla Maps
La Jolla Schools
Talk to a La Jolla Community Expert
Speak to a friendly and experienced real estate professional who can answer your questions about La Jolla.